HGS Research
is a password-protected, web-based information platform, developed by HGS
offers up-to-date market information from renowned sources in an easily accessible and clear form
reliably relieves users of their own research and maintenance of data on international supply and upstream markets
provides users "at the touch of a button" with data, news and publications on all markets relevant to them
promotes the early perception of price changes in supply and upstream markets
provides input for market-data-based argumentation and decision-making
and supports efficient internal reporting on market changes
HGS Research is now available to subscribers in the Oetker-Group as well as to third-party subscribers.
On which markets does HGS Research currently provide information?
Agricultural products - e.g. cereals, starches, vegetables, fruits, nuts, cocoa, oils, sugar, spices, wine, ...
Animal products - e.g. meat and sausages, gelatine, fish, milk, butter, cheese, eggs, ...
Mineral and chemical products - e.g. phosphates, fertilisers, caustic soda, ...
Prepared food - e.g. chocolate, bakery products, sauces, canned food, ...
Packaging - e.g. glass, paper, cardboard, metal and plastic packaging, ... and pre-markets fibres, metals, plastics
Energy - e.g. crude oil, lubricants, diesel, electricity, gas, ...
Transport - freight cost indices, freight volume indices, ...
Technical goods - e.g. machines, machine parts, forklifts, IT hardware, ...
Services - e.g. construction, maintenance, building cleaning, IT programming, ...
Economy - e.g. exchange rates, economic data, leading indicators, ...
...
Market data, news and publications on further products are continuously extended by HGS.
It is possible to display information on customer-specific markets and from customer-specific sources.
Users of HGS Research can trust on reliable data updates provided by HGS and focus on using market information for their business.
They no longer spend time gathering, storing and updating information and can find all market information in a single platform.
The aim of HGS Research is to provide the client with comprehensive routine procurement market research covering a very wide range of sources, while at the same time offering easy-to-use and uniformly structured information for all markets.
Only a platform that is used is a benefit for the customer.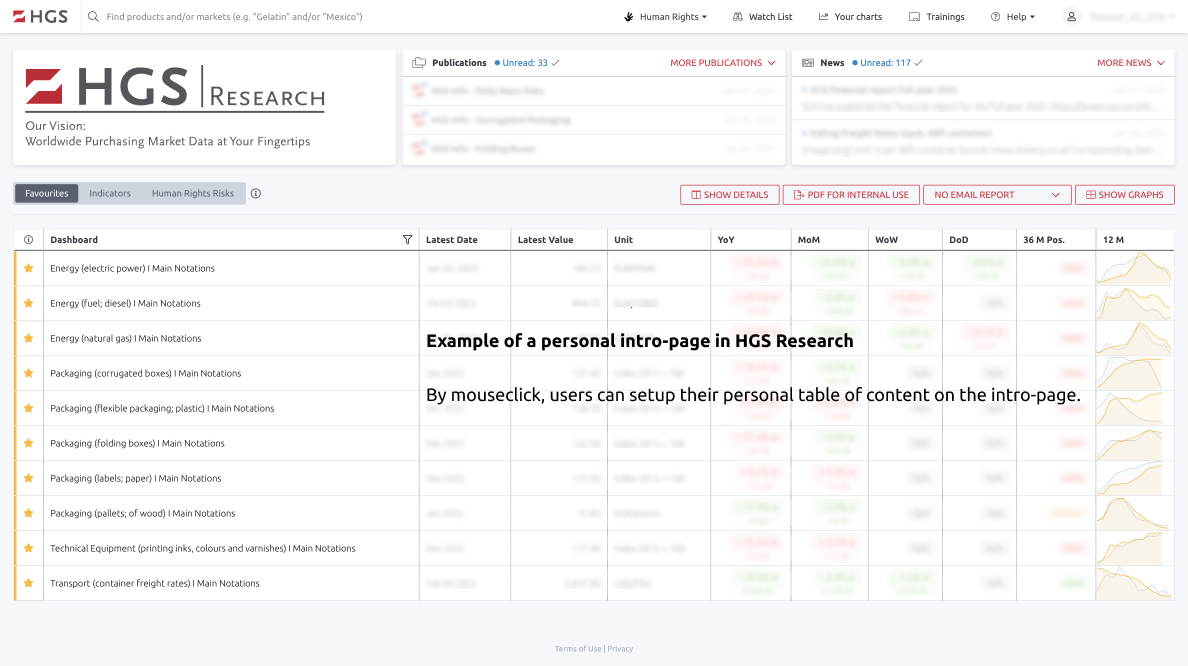 Dashboard for an example commodity group